Mahakaruna Foundation
Educational Projects and Individual Support in Asia
Padmasambhava Peace Institute
The mission of the Padmasambhava Peace Institute is to create a place for human and environmental restoration and to teach applied peace and compassion. We are based at the Black Mountain Preserve, a beautiful 485-acre retreat center set in the hills and forests overlooking the Pacific Ocean, in western Sonoma county. PPI is the current home of Ati Ling and the residence of Jigme Rinpoche.
Iron Knot Ranch
Established under the guidance of Chagdud Tulku Rinpoche, Iron Knot Ranch is a developing retreat center founded on the belief that the true nature of all living beings is inherently pure, wise and compassionate and that it is only a pervasive but superficial confusion that prevents us from knowing this to be so. With this in mind, the work and spiritual practice of Iron Knot Ranch is dedicated to the discovery of this truth in ourselves and others.
Boddhisattva Peace Training
Chagdud Tulku Rinpoche developed The Bodhisattva Peace Training so that people of any faith could benefit from the insights of Buddhist philosophy and its meditation methods for cultivating the positive personal qualities that promote effective and enduring change.
Padma Publishing
Chagdud Gonpa Foundation's publishing arm, devoted to translating Buddhist liturgies as well as producing books in Tibetan Buddhist studies.
Tromge School in Tibet
A donation ensures that young people associated with Tromge Monastery in the Tromtar Valley of Tibet can receive a traditional Buddhist education with all the support and blessings of the lamas and the lineage. Your contribution will directly help the Buddhadharma to grow in a whole new generation. The merit is potentially limitless.
Chagdud Rit'throd, Nepal
Chagdud Rit'hrod is a retreat facility located on a hill above Pharping, Nepal, across the valley from the sacred Asura Cave where Guru Rinpoche attained siddhis through the practice of Vajrakilaya. Generations of Vajrayana practitioners have studied and done retreat in the Pharping area, which is considered to carry great blessings. Chagdud Rit'hrod houses eight to ten full-time retreatants.
Ari Bhöd
Ari Bhöd's mission is to preserve and transmit the priceless legacy of the ancient Tibetan Nyingma lineage tradition, a sacred culture of peace that has been kept vital and effective through more than fifty generations of lifelong practitioners and lineage masters. Ari Bhöd's retreat center, Pema Drawa, is located on 475 acres in the peaceful mountains of Tehachapi, California.
Pema Drawa
Pema Drawa retreat land, on 475 acres in the Tehachapi mountains, is the heart of all of Ari Bhöd's projects and programs.
Shi-Tro Mandala
The Shi-tro Mandala depicts the sacred mansion of the enlightened beings of the One Hundred Buddha Families ("Shi-tro" in Tibetan), which are the expressions of enlightened qualities, such as compassion and altruism, within us all. The Shi-tro Mandala is the most intricately detailed three-dimensional Tibetan Mandala ever constructed outside of India and Asia.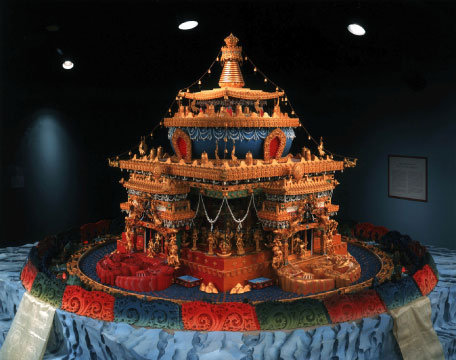 Sítio Esperança provides ethical education for children and youth, through its school, after-school, and camp programs. Many of the participants have difficult circumstances at home and in school. Sítio's educational programs open new avenues of knowledge, enriching their lives and giving them confidence in their own learning abilities. But the deeper intention is to instill ethical values like discipline, tolerance, empathy, and kindness.
Sítio's school facility is located in Lambari (MG), Brazil.